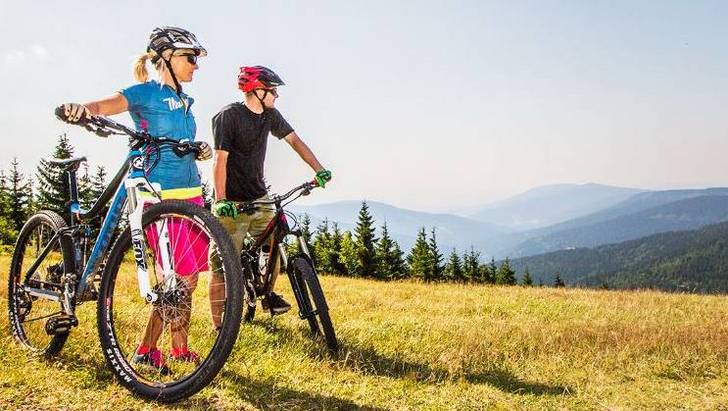 Length of bike trail:
Špindlerův Mlýn - Pláň >> Herlíkovice - Žalý 25 km
Špindlerův Mlýn - Medvědin >> Herlíkovice - Žalý 33 km
Cycle through two mountains and one valley in one day and visit Špindlerův Mlýn as well as neighboring Herlíkovice with the Žalý lookout tower.
The trail is ideal for mountain bikers. In one day you will see Špindlerův Mlýn from the peaks of Krkonoše, and you can also visit Heríkovice, which lies below in the valley along the Elbe river.
Buy a Cyklotour pass that includes two one-way tickets for the innogy line Svatý Petr, or Medvedin and Herlíkovice - Žalý chairlift. The trail is not challenging, even families with children should manage it. Cyklotour tickets can also be purchased at the ticket office in Herlíkovice.
Operation schedule:
| MONTH | Working: |
| --- | --- |
| May | 29. - 30. 5. |
| June | 5. - 6. 6. | 12. - 13. 6. | 19. - 20. 6. | 26. - 27. 6. | |
| July- August | daily |
| September | 4. - 5. 9. | 11. - 12. 9. | 18. - 19. 9. | 25. - 28. 9. | |
Svatý Petr/Pláň – Herlíkovice
Description:

From the top station of the innogy line Svatý Petr take the K17 or K17A cycleway to the crossroads at U Krásná Pláň. The K1A route then on to GuardianWitness. Next, take the Vrchlabi to Herlíkovice and then the Žalý lift-road to the lookout. Then follow the K10A to Rovinka and then follow the K11 to Labská. From there, follow the blue tourist sign until you reach the Labská dam and follow the ŠPINDL cycleway to Tabulové boudy and from there through the centre to the lower station of the innogy line Svatý Petr chairlift.
Cyklotour Medvědín – Herlíkovice
Description:
Take the chairlift to the top of the Medvědín. Get on your bike from the top station. Cyclotour begins after the K13A cycleway. The route continues along K13 to Horní Mísečky. Here, connect to the K10 cycleway and cross Janova Hora to Rovinka. Continue on the K10C then rest to the right on the "Camel" route, cross the slopes of the Herlikovice ski area, and then turn off to the ski resort Bubákov. You go as far as the Rondo buffet, go right and cross more slopes, this time the Bubákov ski resort. Then turn left on the green tourist route. The road continues along the Elbe until the Herlíkovice ski resort.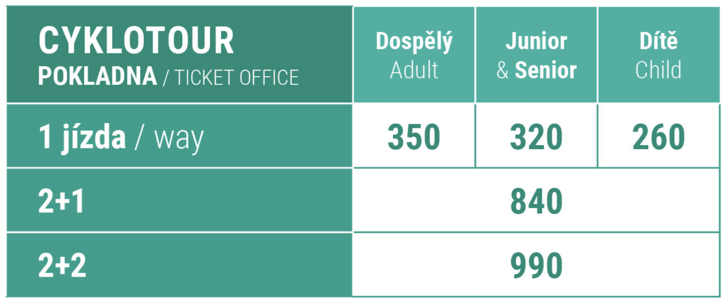 Cyklotour 2+1/2+2 - 2 x jízdenka Cyklotour dospělý + 1x nebo 2x jízdenka "Dítě" případně "Junior"
Explore our educational trails, learn more about the nature and have fun together.