Enjoy your cofee break or lunch in our mountain restaurants with panoramatic view.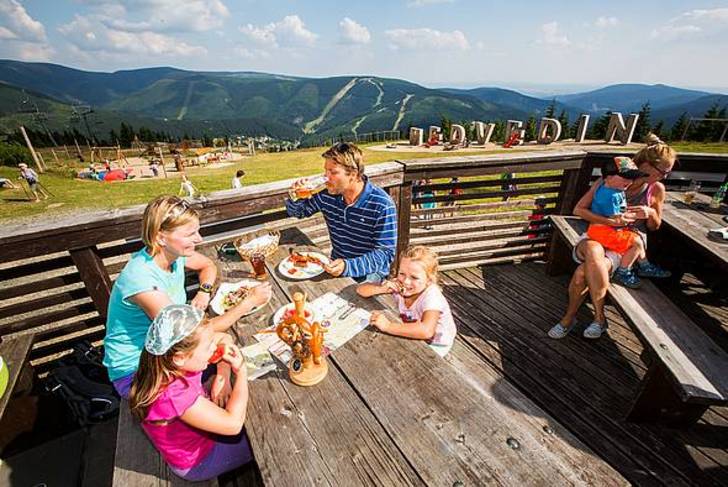 Restaurace Na Pláni se nachází v nadmořské výšce 1198 m.n.m. a kromě stylového interiéru vás ohromí také rozlehlou terasou, ze které budete mít výhled na celé Krkonoše. K restauraci můžete vystoupat pěšky anebo pohodlně vyjet šestisedačkovou lanovkou innogy line.
Restaurace Medvědín 1235m
Restaurace Medvědín 1235m je nejvýše položenou restaurací Spindl Gastronomy. Z terasy restaurace můžete celoročně obdivovat nádherné výhledy na krkonošské horské hřebeny a nejvyšší českou horu Sněžku, za nepříznivého počasí vám zase útulný interiér poskytne hřejivé útočiště. Restauraci Medvědín 1235m najdete u horní stanice lanovky Medvědín, díky které se skvěle hodí jako výchozí nebo cílový bod vašeho výletu.
Bistro Medvědín najdete hned vedle dolní stanice lanovky Medvědín. Je ideální pro rychlý oběd, osvěžující svačinu nebo sladkou tečku v podobě točené zmrzliny. Z terasy bistra je dobře vidět na Trampoline park i na Elektro Bike & Buggy Centrum, takže budete mít klid na kávu, zatímco vaše děti můžou vesele dovádět.
Try other sport activities and have fun together.