Buy tickets conveniently online or directly at the self-service terminal or at ticket office.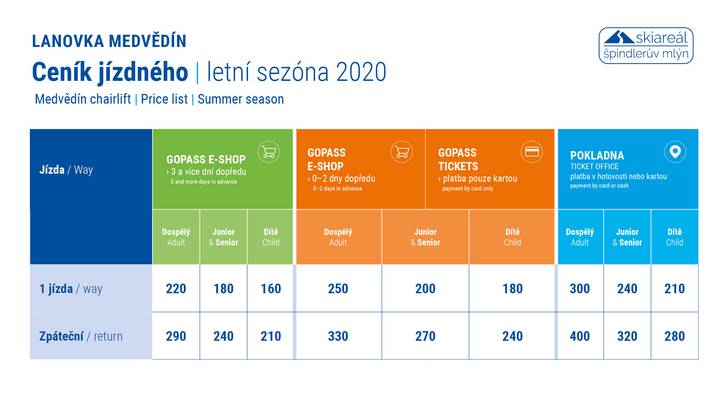 e-shop GOPASS – you can buy tickets for the best price online at www.gopass.cz. Use your GOPASS for all purchases at SpindlMotion and Spindl Gastronomy, collect points and enjoy bigger rewards and discounts.
GOPASS Tickets – Temporarily unavailable due to health & safety regulations. Automated self-service terminals. Tickets purchased through the automated self-service terminals are issued on a contactless GOPASS chip card. The first card is free, additional cards are issued for a 50 CZK fee. Payment by card only.
Ticket office – tickets purchased at the ticket office are issued as an Axess contactless chip card. There is a 50 CZK deposit for the card. The card can be returned via a slot machine for a refund of the deposit. At the ticket office you can pay cash or with credit cards: Eurocard/Mastercard and Maestro, VISA and VISA Electron. We do accept Sodexo Flexi Pass CARD, Multi Pass CARD for a 1 way, Return and Activity ticket.
Tickets purchased at the ticket office or in GOPASS Tickets are only valid on the day of their purchase.
SMALL CHILD 0-5.99 free of charge
CHILD 6-11.99
JUNIOR 12-17.99
ADULT 18-59.99
SENIOR 60+

Proof of age is required and must be supported by an identity card or, if this is not possible, an insurance card. It is not possible to purchase ski passes in the categories "Child", "Junior" and "Senior" without supporting documents showing date of birth/proof of age.
Free transport of dogs, bikes and baby carriage with a valid ticket.
Tickets and cash change from purchases at the ticket offices must be checked and any issues brought to the attention of staff immediately. Any complaint made thereafter will not be considered. Tickets are non-transferable and it is not permitted to lend or sell passes. Ticket offices and lift entrances are monitored by camera. Should a ticket be used in an unauthorized manner, it will be confiscated or blocked without compensation. The turnstile area is monitored. When passing through a turnstile, an image is taken that is processed and stored within the check-in system. To comply with personal data regulations, this image is retained for the duration of the tickets and then erased from the system.
The operator reserves the right to change prices without advanced notice. All prices are in CZK.
Operator: MELIDA, a. s., Špindlerův Mlýn 281, 543 51, IČ: 24166511, tel. +420 499 467 101
If you have any questions, please contact us. We will be happy to answer.